AFRICAN SAFARI ADVENTURE
SOE's African Safari Adventures has two specific components that will allow you to have the experience of a lifetime while leaving a legacy. Those components are the safari and the outreach initiative. Consider going on the Safari Hunt and supporting SOE's outreach initiative at the local school. You can participate in only the outreach initiative if you choose. Listed below is the information about this safari and life-changing opportunity.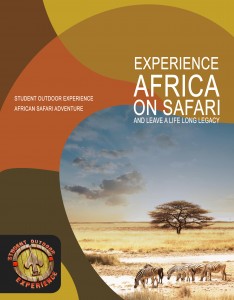 Student Outdoor Experience in direct partnership with Infinito-Safaris offers some of the best Plains Game hunting in South Africa. Our motto of hunting in areas where each species naturally occurs ensures that our hunters are able to take top trophies every year!
We hunt large areas that support self-sustainable populations of game.
Depending on which area and species is hunted, the method is usually "spot and stalk".
Shots often between 40 and 150 yards.
The 30.06 Caliber with a quality telescope and premium bullets will take care of all the Plains Game animals.
While hunting from the main lodge we will see rifle hunters visiting areas that cover a total of 200,000 acres in the Groblersdal district.
Drives to hunting areas from the main lodge may take as little as5 minutes but no longer than 45 minutes.
Hunters are typically out the whole day leaving the lodge at 06:30 and returning at about 18:00.
We can cater for groups up to 16 people with a maximum of 16 hunters in one group – BIG groups are FUN!
OUTREACH  INITIATIVE
We will be working directly with the students and teachers at the Primary School. This four-room school is about 30 miles west of Groblersdal in the Limpopo bush area. The purpose of this trip will be:
Holistic Outreach

Food for students while at school
Coats for students during winter months
Kitchen upgrade/rebuilt

Leadership Development

Monthly training and teaching
Indigenous discipleship
Use of SOE curriculum

Influential Investment

Rooms/living quarters for teachers
Office/storage for teachers and products
Continued educational support (post-secondary school)
OFFERED PACKAGES
PACKAGE A = $5,000 (plus airfare)

2 Animals
7 Day (5 day hunt/2 day school)

PACKAGE B = $7,000 (plus airfare)

4 Animals (possible additional animals)
7 Day (5 day hunt/2 day school)

PACKAGE C = Custom Package Pricing

Custom
Dangerous Game
Big Five
Teachers and people with building skills are needed as well as good helpers and workers. A maximum of 12 people may go. The approximate total cost is $3000 per person depending on the cost of airfare. Extending the trip a few days for sightseeing is a possibility.